Cover: $6 for 21+ and $8 for 18-20
Drink Specials: $5 Fireball and $5 Herradura Silver
Hours: 10:30pm – 3am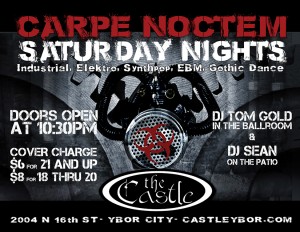 Upstairs: CARPE NOCTUM
DARK ELECTRONIC DANCE MUSIC AND VISUAL PERFORMERS
Hosted by DJ Tom Gold
For over 18 years Tom had DJ'ed on Fridays and Saturdays at The Castle. A true pioneer of the Dark Electronic movement in the United States, Tom's run at The Castle is one of the longest-standing gigs held by any single DJ in the American scene. He is always pushing the envelope to make the Tampa scene evolve by introducing listeners to new music and booking local shows.
Spinning the latest and best Industrial, Elektro, Futurepop, Powernoise, Synthpop, EBM and Gothic dance music that ranges across the scene. This dark alternative night brings out a nice mix of tourists and the regulars, and is the premiere night to hear these styles of music in the United States.
Show off unique looks of Cyber, Glam, Gothic, Lolita, Military, Vampire, Fetish, Steampunk and victorian styles that can only be seen here.
Come to see a variety of personalities, celebrities, fetishists, performers and dancer, or show us your own style.
Visual performers every house and special guest DJs on selected nights. Look for monthly themed special events.
Downstairs on the patio: SYNTHETIK SATURDAYS
GOTHIC/INDUSTRIAL UNDER THE STARS
Hosted by DJ Sean
A mix old old-school goth and industrial along with current favorites. Requests are always welcome. It's nature tech dancing at it's starry finest.