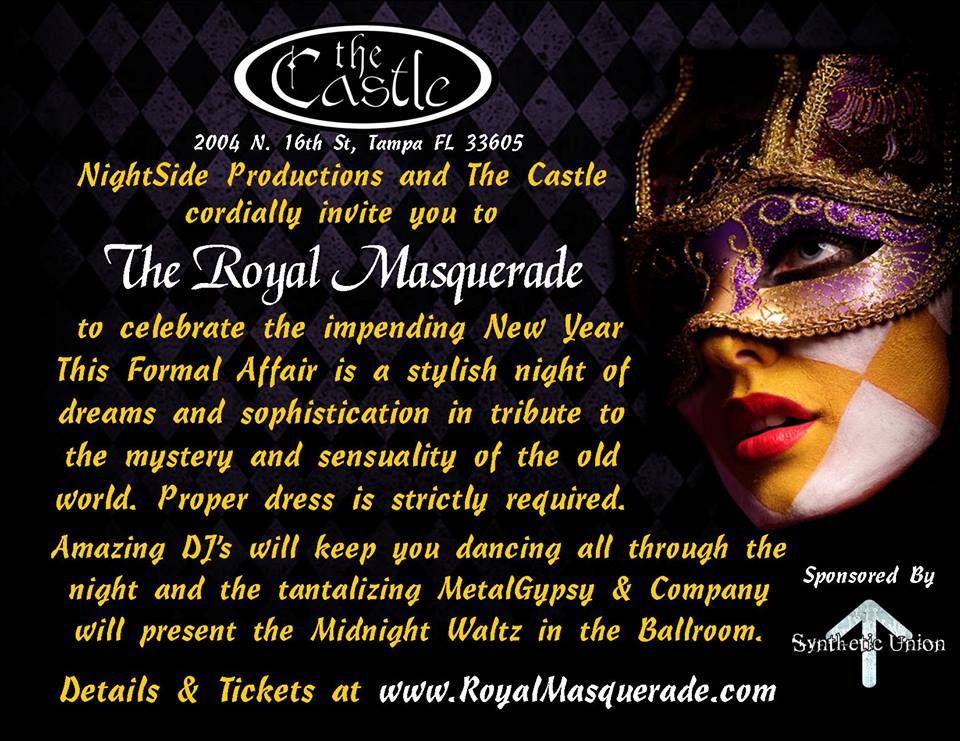 The people who bring you "Taboo Masquerade & Fetish Ball" cordially invite you to "The Royal Masquerade Ball" at the Castle to celebrate the impending New Year! The Royal Masquerade Ball is a formal affair so please dress in your absolute best! Tuxedo, Ball Gowns, Formal Uniform, Victorian, etc. Appropriate attire is required! This will be a New Year Celebration to remember!
SATURDAY DECEMBER 28, 2013
The Royal Masquerade Ball will be a luscious masquerade in tribute to the sophistication of the old world. We will transport you through time to a dream of mystery and seduction.
Doors will open at 10:30 and you will be able to indulge your senses until 3:00am. We recommend procuring an advance ticket here for only $15. Entry will be $20 at the door the night of the event. If you are not dressed appropriately, you will have to pay an additional $10 no matter if you have an advance ticket or not. Did we mention it was a Formal Masquerade Ball?
We are proud to present MetalGypsy Productions as the leaders of the Midnight Watlz. Your favorite Burlesque Performer of the Year Vita DeVoid will be giving you a little show. Of course, a Ball is about dancing and we will insure all of your musical needs will be satisfied as well. We're bringing in Danny Bled from Miami to help Tom Gold, D.j. Sean and Dystopic to rock you all night long!